Locksmith Services In Creswell, Oregon
Professional Locksmith Services
Location:
Creswell, Oregon and Surrounding Areas
Phone Number:
541-357-0065
Email Address:
Hours:
Monday-Friday 7AM-5PM

100% Satisfaction Guarantee




Licensed, Bonded, and Insured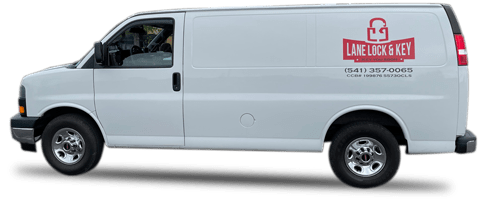 Residential Locksmith Services
Whether you are locked out, you just moved into a new house or you are remodeling or adding on to your existing one, we offer a complete package of residential locksmith services in Creswell Oregon and the surrounding areas. We can rekey and replace your locks, install new locks and resolve lockouts. We have a reputation for providing quick service and we offer round-the-clock support.
No one wants to find themselves locked out of their home. This can be a frustrating experience at the least and an emergency situation at the worst. We are available at any hour of the day or night. Just give us a call and we will be at your house in no time, ready to resolve your lockout in a timely fashion so that you can get back into your home as quickly as possible.
If you are in the process of building a new home or you are remodeling your existing one, we can install new locks on your doors. We offer high security locks that will help keep your home safe from intruders. You don't need to worry about going to the hardware store to make copies of your keys once we install your new locks – we can provide key copies for you on site.
We also provide a comprehensive lock replacement service. You may want to replace certain locks in your house either because of a malfunction or because you want a lock that is more secure. We can install a variety of locks graded by the the American National Standards Institute (ANSI). Your house may not have been secure before, but it will be after we're done with it.
Want to rekey your locks without disrupting your existing hardware? We can change the internal security of a lock while leaving everything around it perfectly in tact. As with any of our jobs, we can provide new key copies on site. One visit from us and you are all set.
We are a licensed, bonded and insured residential locksmith. Our priority is to provide an affordable service that will help you secure your home. Do not hesitate to call us for any residential locksmith services.
Our Residential Services Include:
Lock Replacement
Lockout Service
New Lock Installations
Rekeying
Automotive Locksmith Services
Locked out of your car and need immediate assistance? Need to replace a lost car key? Have a key fob that needs to be programmed? We can help you in every one of these situations. We understand that in these scenarios time is of the essence. While you may be inclined to call your dealership, we offer the fastest response times around and our automotive services are compatible with all types of car keys and locks, including remote keys.
Any situation in which you find yourself locked out of your car is a distressing one. We have the tools to unlock your car without damaging the car itself. If you try to unlock your car with DIY methods, you may end up with two bills, one to unlock your car and one to repair the damages incurred when you tried to unlock it yourself.
If you have a key fob or a transponder "chip" key, we can provide programming or reprogramming services. Keyless entry has become the norm for many car models and the newer generations of transponder keys provide an added level of security. Every now and then these devices malfunction, however. We can get them back in working order in no time regardless of the make or model of the car.
We can also repair and replace car locks in or around Creswell Oregon. If your car locks are not working correctly you may soon encounter a situation in which you cannot get into your car. At the same time, if you have a malfunctioning lock, you may be putting yourself at risk for theft. Avoid this by repairing your locks or replacing them. We can recommend and install high security locks that are compatible with your vehicle.
Finally, we can help you with emergency car door unlocking. This is a situation in which someone is trapped in a car and they are unable to get out. For example, your child is trapped in your car and you and your child are unable to unlock the doors.
Our automotive services in follow the same approach as our other locksmith services. We offer fast response times and thoughtful, detail-oriented work. Our experience is extensive and there isn't a job we have not encountered. Whether it's an emergency or routine lock-work, give us a call and we can help you today.
Our Automotive services include
Lost key replacement
Lock repair / replacement
Transponder "Chip" keys
Lockouts
Commercial Locksmith Services
If you are a business owner, no one needs to explain to you the importance of security. Whether you sell merchandise or offer a service, a break-in of any kind could be devastating. It's never a bad idea to conduct a security audit to see if there are certain things that you need to repair or upgrade.
We can help you every step of the way in this regard. Our comprehensive commercial locksmith services in Creswell Oregon include repairing, rekeying, replacing and upgrading your locks. We can also help you with lockouts, master keying, panic bars and alarm lock servicing.
If your locks are outdated or malfunctioning, you should service them immediately. Your locks may be difficult to unlock or the locking mechanism itself may be damaged. We can repair them. If your locks are outdated, we can replace them with high security locks. We use locks endorsed by the American National Standards Institute (ANSI). We will help you choose the appropriate security grade for your enterprise.
Do you already have functioning high security locks but too many keys are floating around? We can rekey your locks. We will change the internal security of the lock without affecting the hardware around it.
We also offer a master keying service and we can make key copies on site. A master key system is based on a hierarchy of keys with some keys offering more access than others. This system allows you to keep track of who has access to different areas of your commercial property. We can help you plan your master key system with an eye on future changes to your business.
If you have an alarm lock that needs servicing or if you want to install panic bars, we can help you. We have extensive experience working with alarm locks. The additional level of security that they provide is a welcome feature for most businesses. Panic bars are ideal for commercial enterprises because they allow for customers and employees to rapidly exit the building in an emergency. We can install and/or service them.
Finally, we can resolve any lockout issue that you may have. We have a responsive team that can be dispatched immediately.
Our commercial locksmith services are backed up by years of experience. We offer affordable rates and detail-oriented service. Give us a call today and we can discuss how we can work together.
Our Commercial Locksmith Services include:
Rekeying
Lockouts
High Security locks
Panic bars
Alarm Lock servicing
Other Locksmith Services
Is there a service we missed? Give us a call at 541-357-0065 today. We handle all kinds of locksmith needs. We are a licensed, bonded, and insured Locksmith that's been in business since 2013!