We care about the community we live in.
Eugene, Oregon's Premier Locksmith

The Locksmith You Can Trust
We have more than 10 years of experience
Serving Eugene, Springfield, Junction City, Cottage Grove, Creswell, Veneta, and the surrounding areas.
What sets us apart from other locksmiths in Eugene isn't just our low fees, it's the way we go about our business. We lessen the burden of any sort of lockout experience, and we do it with a smile.
We understand you work hard for what you have, and at Lane Lock and Key, we're dedicated to providing you true security and peace of mind. Whether you're in Eugene, Springfield, Coburg, Creswell, Cottage Grove, Junction City, or any of the surrounding areas, we're just a phone call away because we're local.
At Lane Lock and Key, our business is ensuring your safety. Whether you're locked out of your home or your car, need your locks replaced or rekeyed, or any other commercial, residential, or automotive locksmith needs, you can rely on Lane Lock and Key to deliver. With our full range of services, we're the only phone number you'll need to get your local locksmith services done quickly, friendly, and without breaking the bank. We want to ensure you're safe, 24 hours a day.
Eugene's Best Locksmith
Don't wait until you're locked out. Add Lane Lock and Key into your phone today, so that when you're in a bind and need someone right away, you can just open and call.  No need to search around or call a friend to do the legwork. We are mobile and will come right to your door.  The only number you'll need to know for all of your Locksmith needs in Eugene, Springfield, Creswell, Junction City, Cottage Grove, or anywhere around there, is 541-357-0065.
We Are Ready To Serve You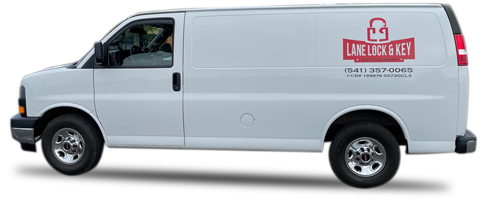 Call (541) 357-0065 For Service

100% Satisfaction Guarantee




100% Satisfaction Guarantee



Call (541) 357-0065 For Service